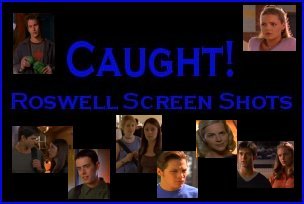 Click on each link for a full page of screen captures from the WB's Roswell.
There are 4 or 5 pics per page.
Join the Crash Down Cafe Discussion Group
CAUGHT! Has been on-line since 11/5/99
Last update 12/7/99
Due to the fact that I'm no longer living in a house with WebTV, updates will be few and far between. Feel free to use these pics on your own Roswell sites.
Disclaimer: This is a fan site. I am not associated with Roswell,
it's cast or the WB in any way.